Boost your life with a C60 lifestyle!
Element - EARTH🌎 8mm
Usual price
Sale price
CAD $ 49.95
Unit price
by
Selling
Out of stock
The Element - EARTH🌎
People of the Earth element are said to down-to-earth and orderly.
It is said that they are good mediators and always tries to find the best common ground. These people have a excellent analytical skills.
They are balanced and social.
Who are you now with your jewel
Element - EARTH🌎?
Discover this exceptional bracelet, designed for stimulate your will and strengthen your assertiveness, while stimulating your ability to persuade.
It carries positive energy and motivation, promoting compassion, unconditional love, as well as recognition & self-esteem.
Let this bracelet guide you towards this quest for inner balance and calm that you are looking for.
We are made of fire, earth, air and water.
We are the wisdom of the elements that think, feel, love, experience, learn, question and explore.
By attending to the four elements, we begin to balance with nature.
What element do you connect with the most at the moment?
Element - EARTH🌎 encourages and favors

✨ Stimulates willpower & assertiveness
✨ Improves persuasion ability
✨ Positive energy & motivation
✨ Compassion
✨ Unconditional love
✨ Recognition and self-esteem
✨ Balance & calm
And of course,
✨ Theoptimize your energy fields
✨Et neutralizes OEMA (artificial electromagnetic waves)
Element - EARTH🌎 is associated with which energy center?
Chakra solar plexus & heart
(I.e.According to Hildegarde Von Bingen, the powers of the Earth are:
In summer it refreshes us and in winter it warms us;
She can self-regenerate;
The earth can wither upon itself;
She germinates seeds;
It keeps living beings alive;
The earth contains everything.
What does the set contain? Element - EARTH🌎 ?
🔺 1x bracelet with carbon 60, tiger's eye and melachite stones
Element - EARTH🌎 includes what colors? :
⚫ Black
⚫ brown and green
⚫ Gold (stainless steel, hypoallergenic)
What are its dimensions?
⭕ 8mm marbles
⭕ Wrist size (2 sizes available):
SMALL: 16.5cm / 6.5inch
BIG: 18cm / 7 inch
Energy EARTH🌎 is mainly linked to the following zodiac signs:
♉ ♑ ♍Taurus - Capricorn - Virgo
* The properties, benefits and virtues of the stones stated are information taken from various reference books and websites in lithotherapy and cannot in any way constitute a medical diagnosis or treatment, nor engage our liability.
Are you curious and want to know more about the benefits?!

In lithotherapy, the energy of zebra jasper is very motivating, reminding us that the source of energy and love within us is endless, always accessible and constantly renewed.

It encourages manifesting the desires in your life using creative and imaginative thinking.

It is a stone that supports creative activity at all levels and thus encourages one to remain creative in thought, word and deed.

Zebra Jasper helps find balance in life while remaining centered and grounded, which promotes a strong sense of security and stability.

In addition, these energies of balance help to unite and harmonize your masculine and feminine energies: your Yin and your Yang.

Le carbon 60, thanks to its high vibration, contributes to increase your vital energy, optimizing the energy fields that compose you.

It also stimulates your immune defenses and neutralizes the OEMA (artificial electromagnetic waves) produced by the electronic devices around you.

These negatively affect your cellular energy level and are harmful to you.

Carbon 60 is therefore a powerful ally which will help you feel energized to carry out all your projects!
Maintenance and charging

????Don't panic if your skin turns a little black when in contact with the Carbon beads: it's normal, it's Carbon! All you have to do is wash your wrist with mild soap and water.

🔺 You can also seal the stones with vegetable oil (e.g. olive or coconut oil). Simply put oil on the stones and massage with your fingers. Then remove excess oil with a paper towel.

This is called ''sealing the stones'' to prevent them from darkening your skin.

This is not automatically required when purchasing jewelry.

Several of our clients have told us that they did not do this and that after a few days to a few weeks, their skin no longer darkened.

It's up to you to see what's best for you.

🔺 It is also good to release the energies captured by the stones from time to time. Simply hold them under running water for a short time (ex: 1-2 minutes) while affirming that they are now clear and then put them in the sun for 1 day.
The best of nature for you!

At Carbon Living we offer you the best of nature, because we believe that the best lies in it.

This is why all of our jewelry is made from shungite stone containing C60 natural.

Our jewelry will support your energy level by optimizing your energy fields.

In this technological world, nothing better than shungite to help you connect with the most nature-centered version of yourself and who you really are.
Love & Intentions

All of our products are handcrafted through a ritual of intentions of Love and Peace.
We're here for you !

You have a question? We are here to answer it.

Click on the Cat and we will be happy to answer your questions.
Share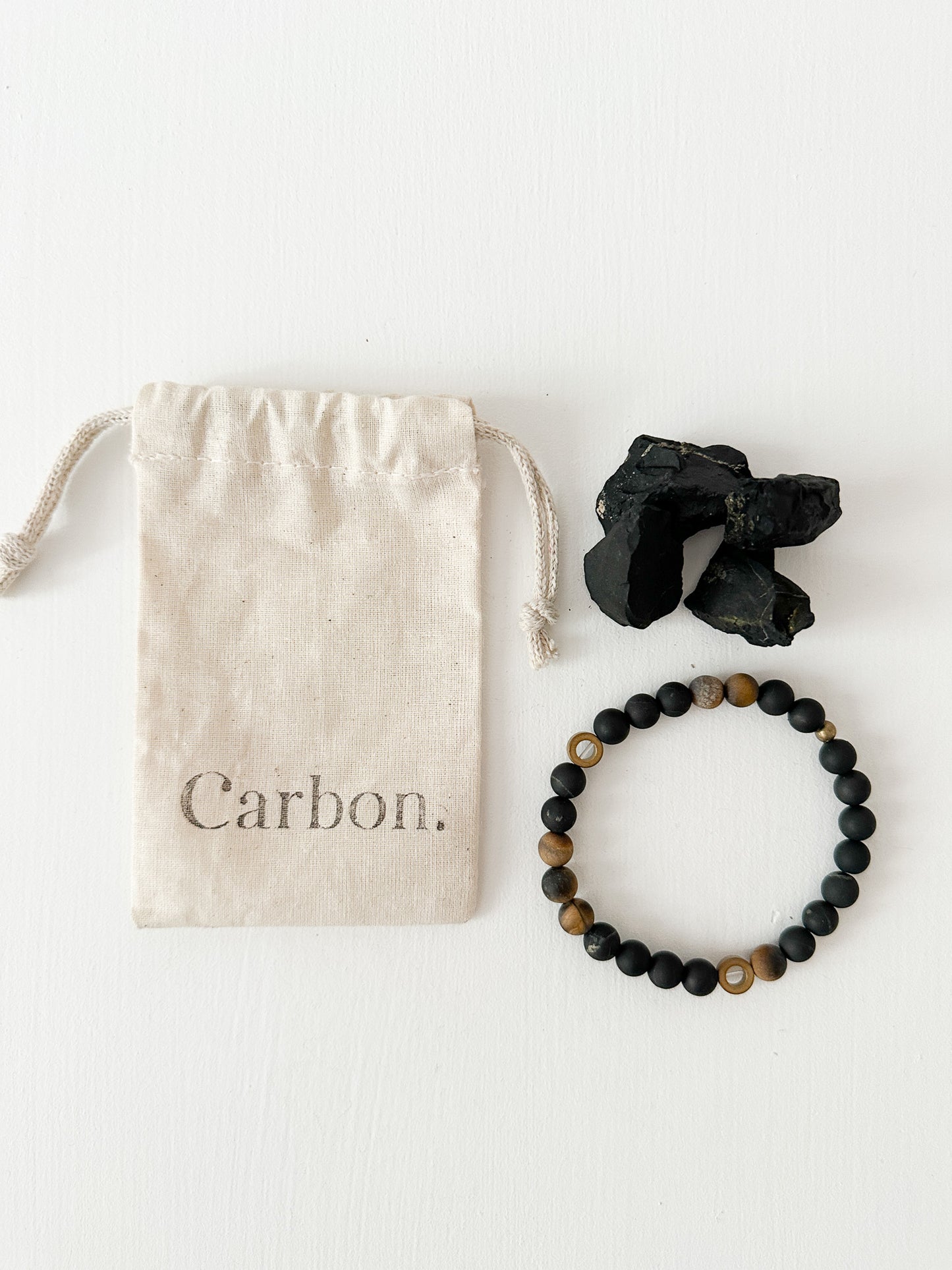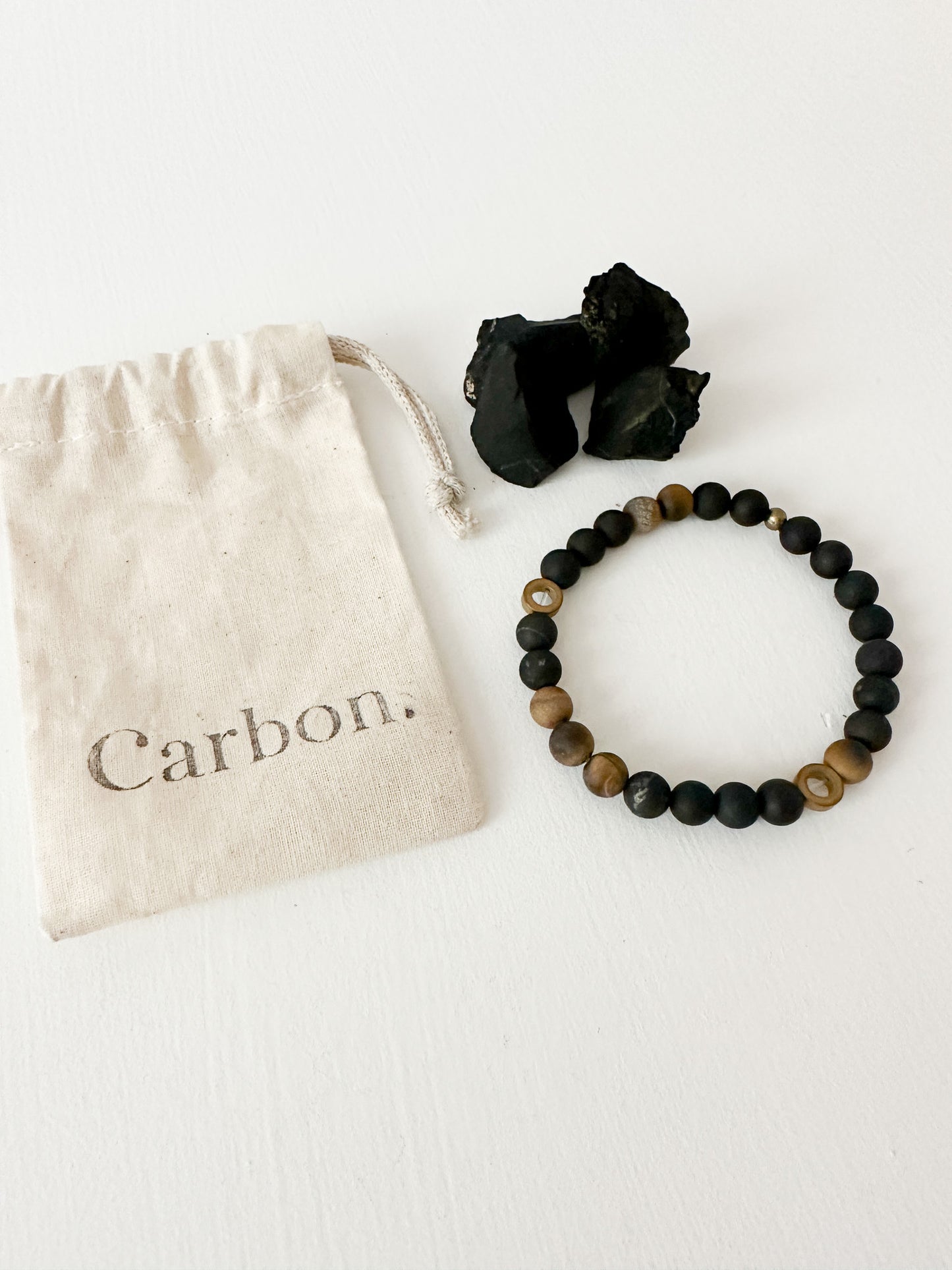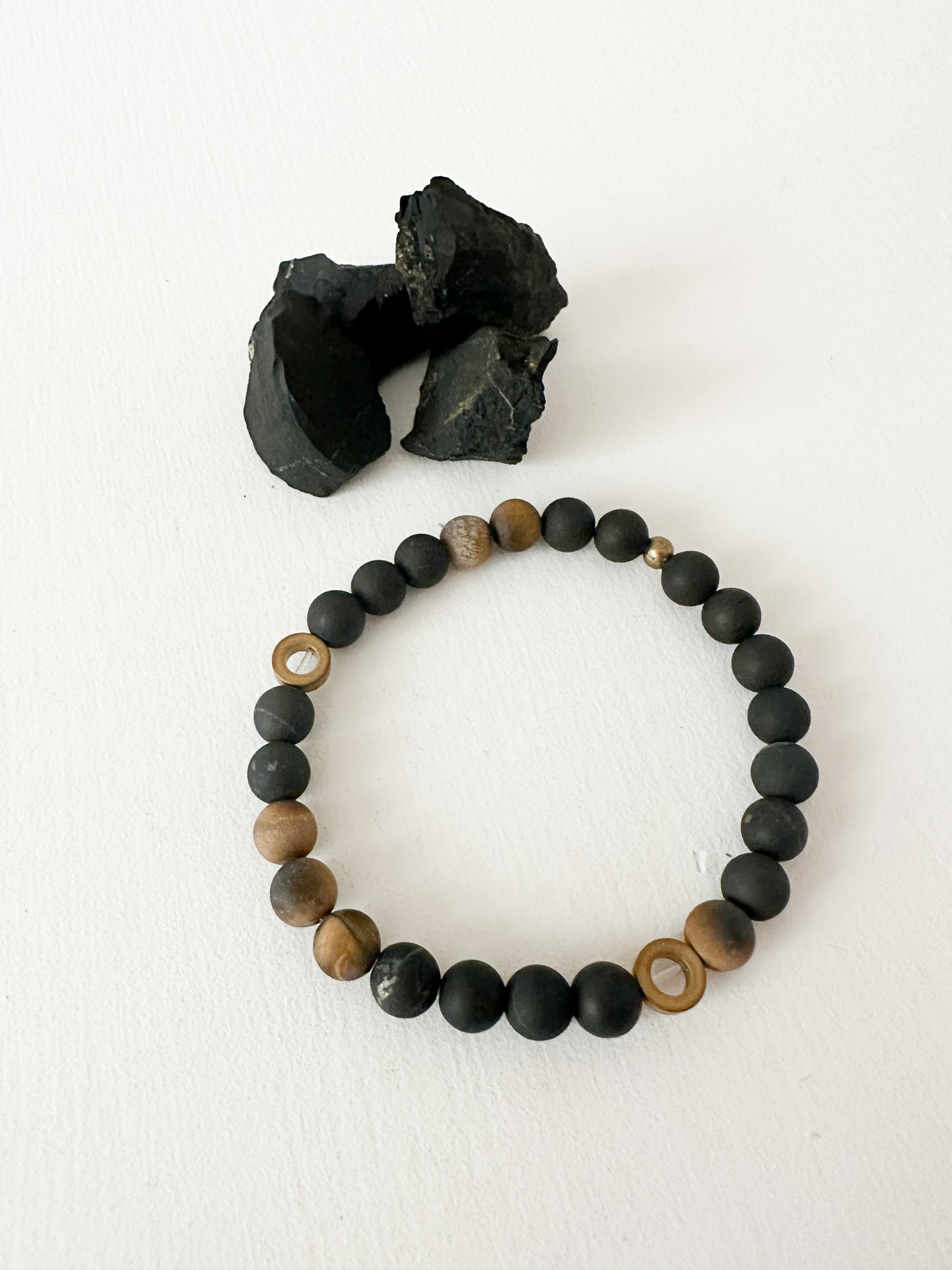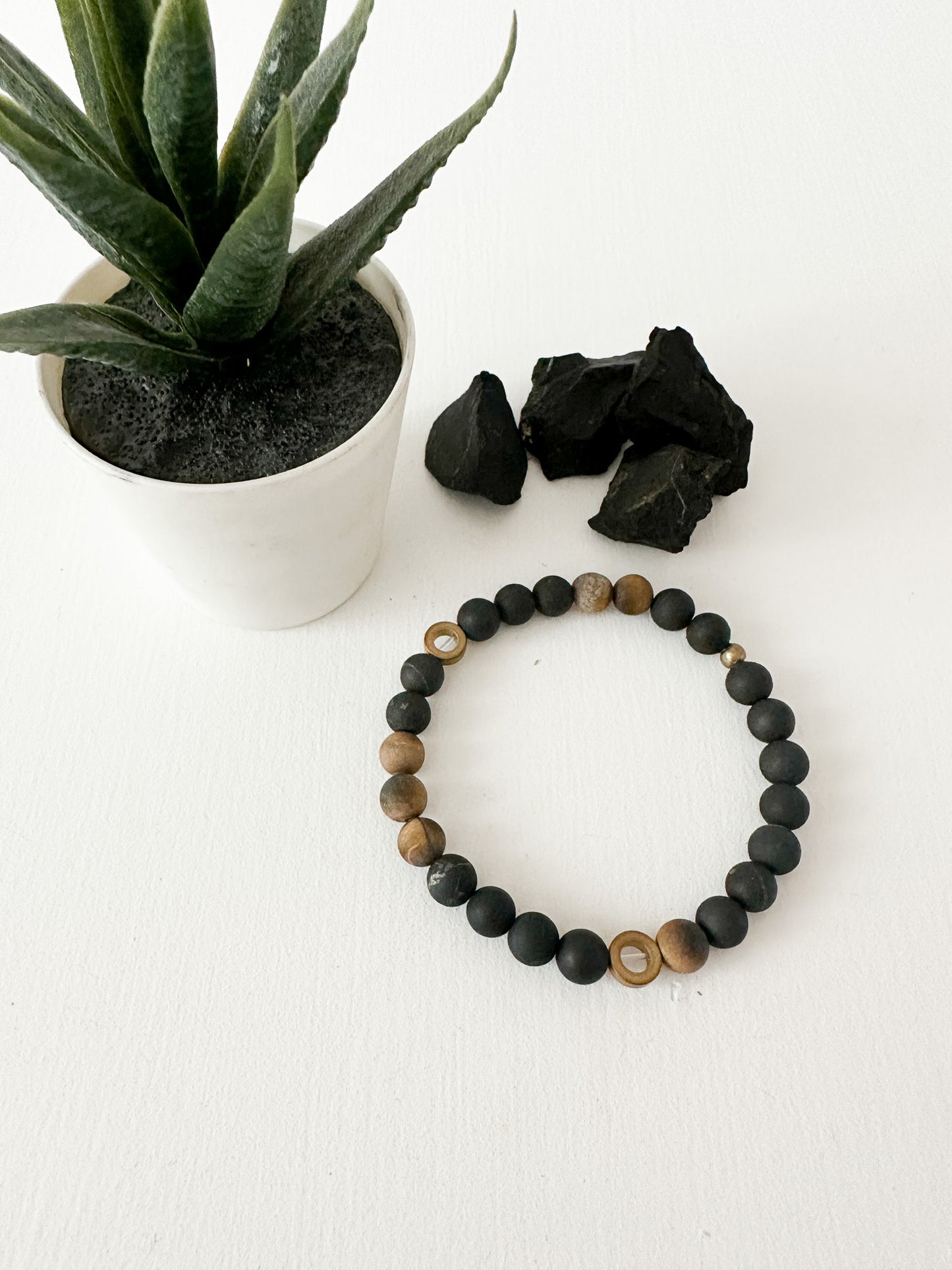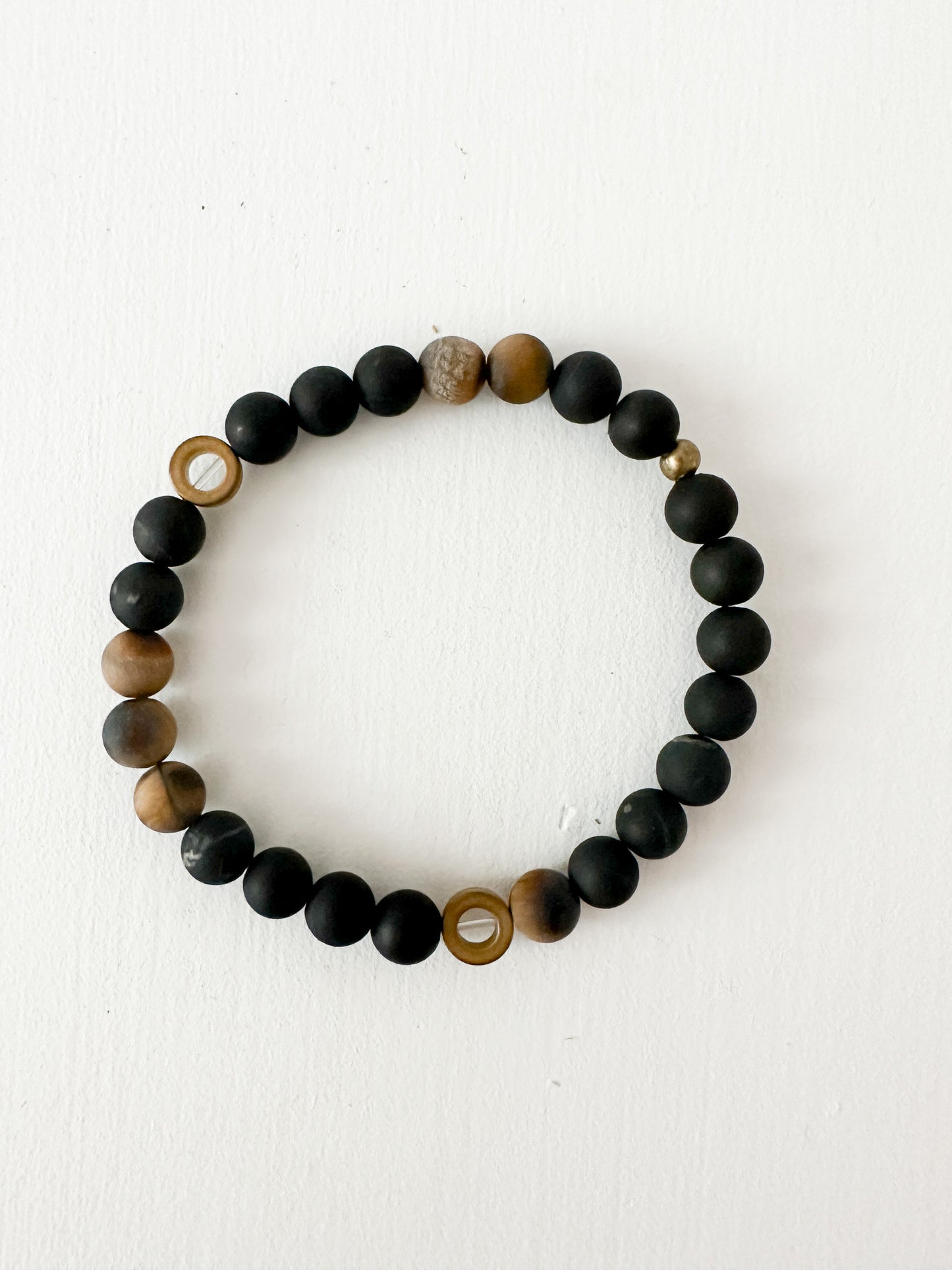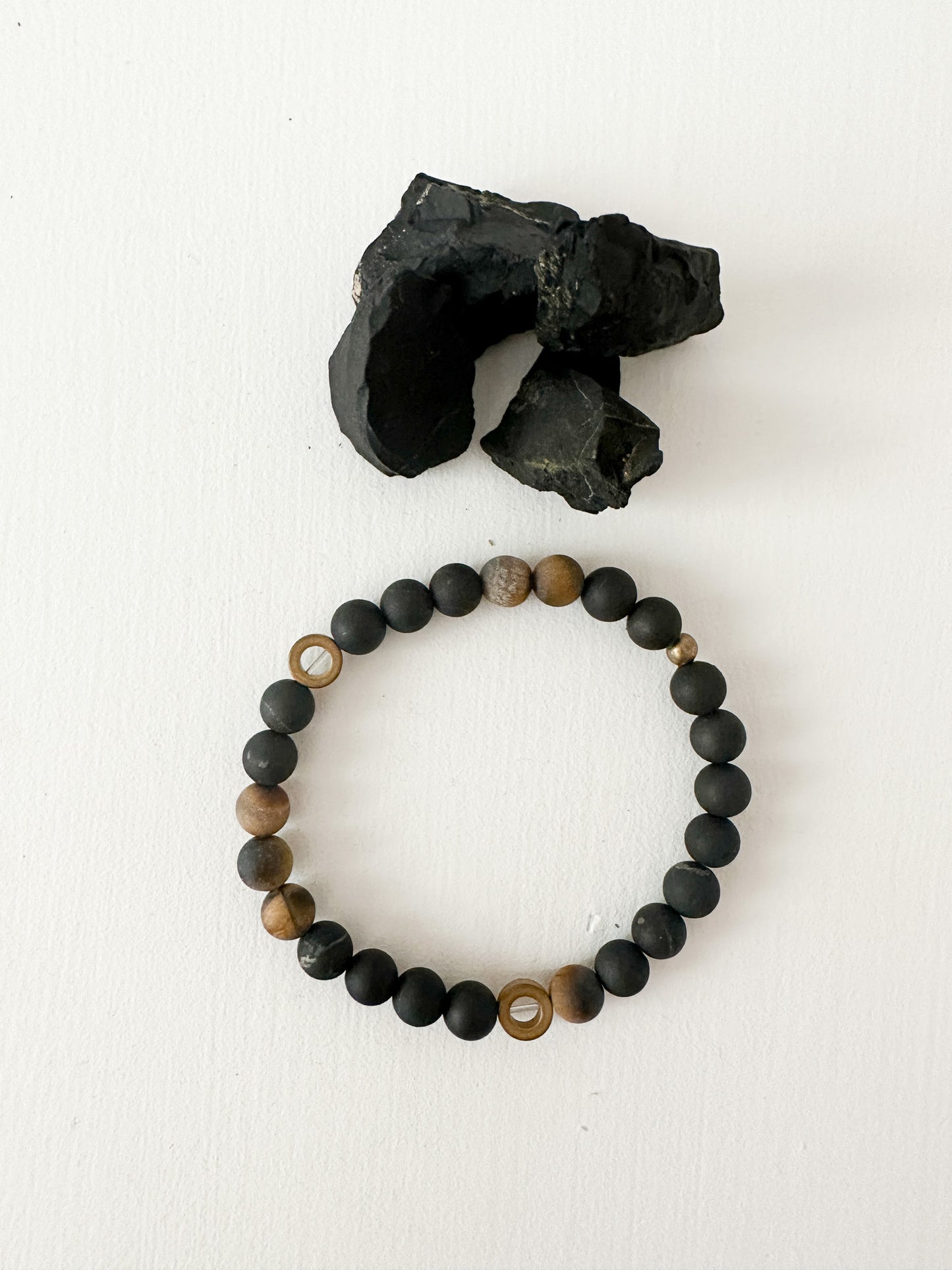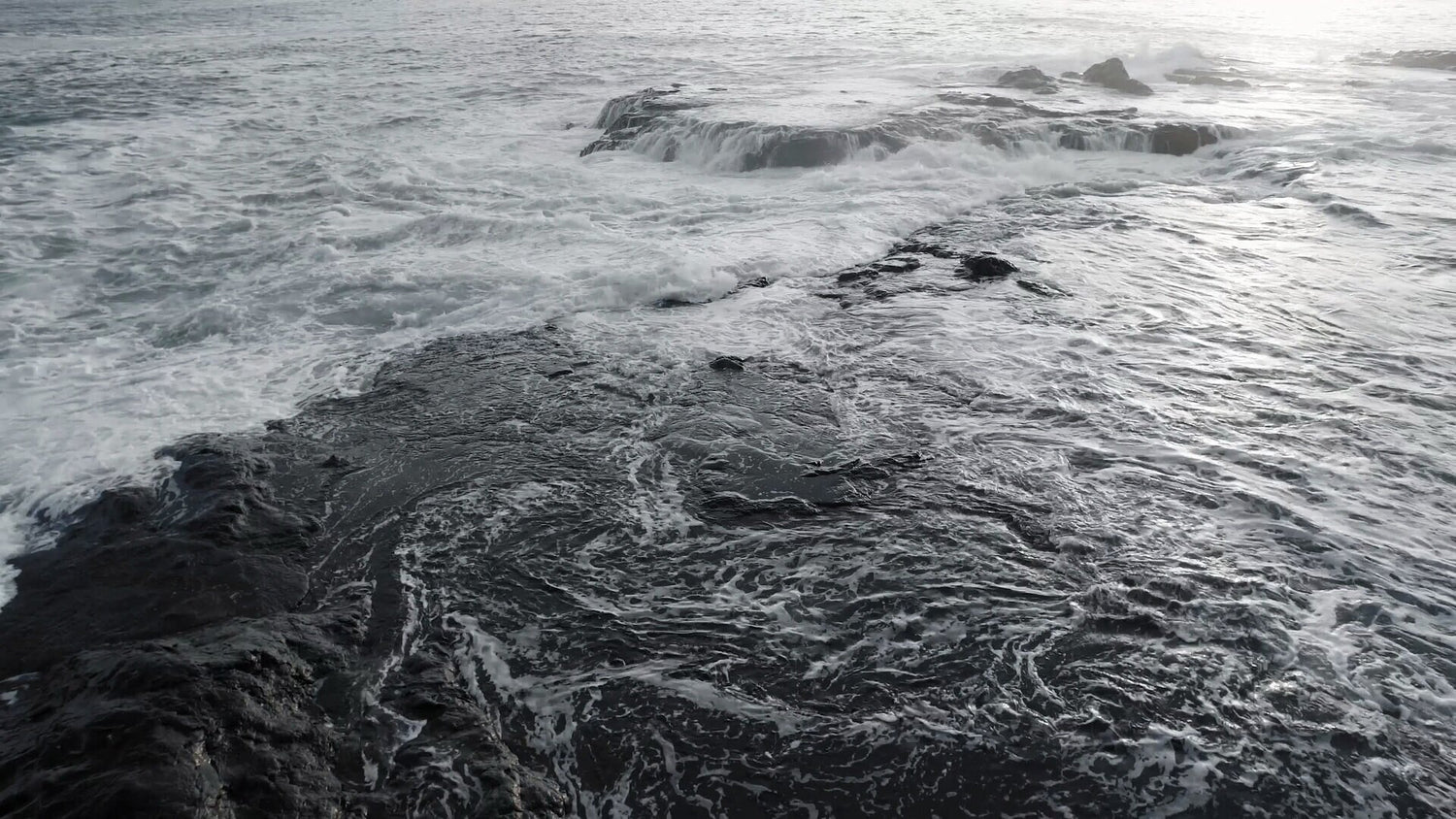 Live at your best everyday
The optimizing power of C60 natural on the human body acts with power.
At Carbon Living we understand this, which is why we incorporate it into everything we do!
Carbon Conscious Circle

Join the Conscious Carbon Circle and earn rewards every time you shop with us!

Billions of years of preparation

Billions of years of training and preparation so you can take full advantage of it!

Refer friends and get surprises!

For each successful reference, we offer you a surprise on your next order!
Why live a lifestyle C60 ?
Because I have already tried many other things!

I understand that I will age for the rest of my life, it is life after all.

However, it is essential for me to age in health and in the best version of myself.

So if the C60 can help me achieve this result: I'm IN!
Because I like to be the one who always comes up with new stuff!

I love suggesting new alternatives, new products, new ways of doing things to my friends!

My friends define me as the one who is always aware of the latest trends.

So if it's new and I can do good around me: it resonates with me!
Because I like to try new alternatives!

I love trying new products in order to always improve my quality of life, a little bit every day.

If it has potential, I want to try!
Because I have nothing to lose!

What do I have to lose?

My health is what I hold most precious, because without it I cannot be at my best.

If a lifestyle C60 can help me optimize my health, I say YES!

After all, I'm worth it!